This article will guide you to convert your WHMCS hosting accounts from cPanel to Webuzo once you have converted the cPanel Server to a Webuzo server after running the cPanel to Webuzo in-place converter.
Your users will simply notice a new UI in WHMCS after the conversion.
This WHMCS converter works by converting one cPanel server's hosting accounts at a time i.e. you will get the option to choose the new Product / Service Plan in WHMCS or create new ones as Webuzo and convert.
Note : You must backup your WHMCS Database before converting and also lock WHMCS to prevent creation of new hosting accounts on the server being converted.
Download the cPanel to Webuzo WHMCS Converter from here.

Create a directory cpanel_converter in your /path/to/whmcs/ Directory.
Unzip the downloaded zip in the cpanel_converter directory which you created.
Please make sure that the upload was done properly and the following folder exists :
/path/to/whmcs/cpanel_converter
To run the converter you need to access http(s)://ip-or-hostname/cpanel_converter

Note : At this point in time you should stop to take any new orders and also create a backup of the WHMCS Database

We recommend you let the converter create the Product.
When this utility will create the Webuzo Product it will copy the cPanel Product data and also its pricing.
It will also use the same cPanel configurable options so that the user can manage that as well.

When you run the converter, it will list the cPanel WHMCS Servers.
You will need to choose the Server of which you would like to convert the hosting accounts of.
The converter will not modify the cPanel Products or server but will instead modify the Hosting Accounts of the cPanel Server.
So lets start, you will see the cPanel servers listed. After choosing the cPanel server to convert, click on Load Data.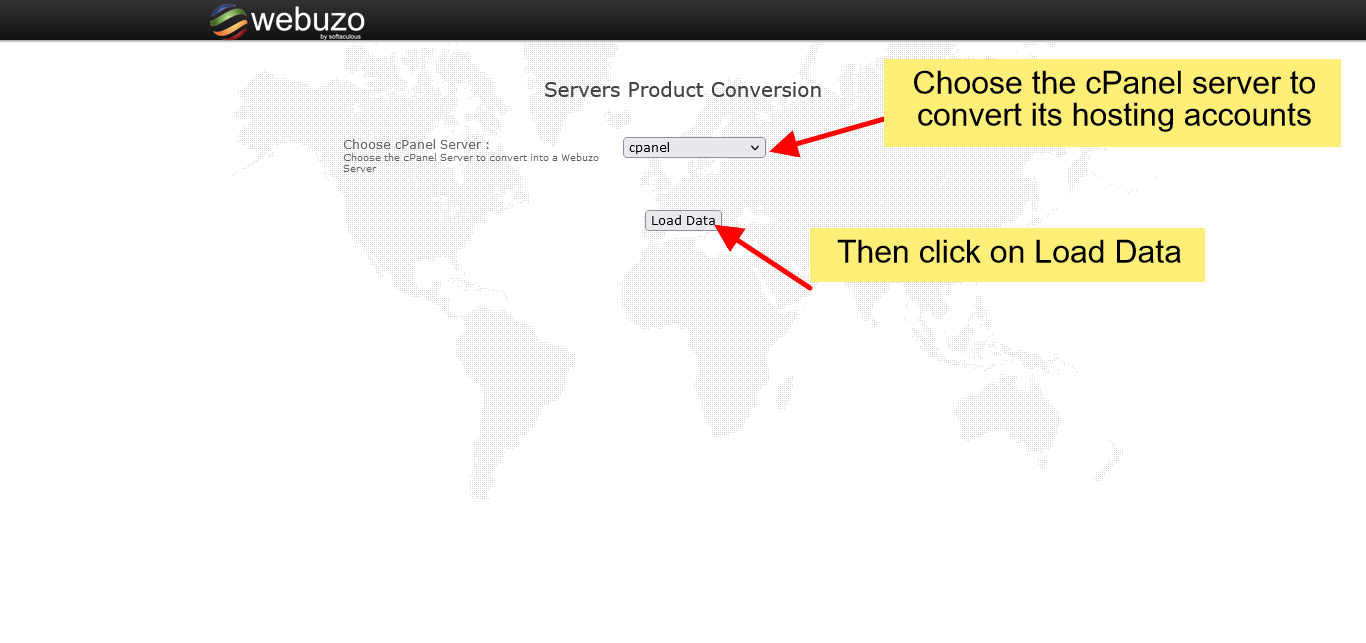 You would have three options to convert :
1) Do nothing i.e. the hosting accounts of that particular product will not be updated.
2) Choose an existing Webuzo Product you have created before.
3) Let this converter create the Webuzo product for the cPanel Product you are importing.
Based on your preference choose the appropriate options. Then click on Start Conversion.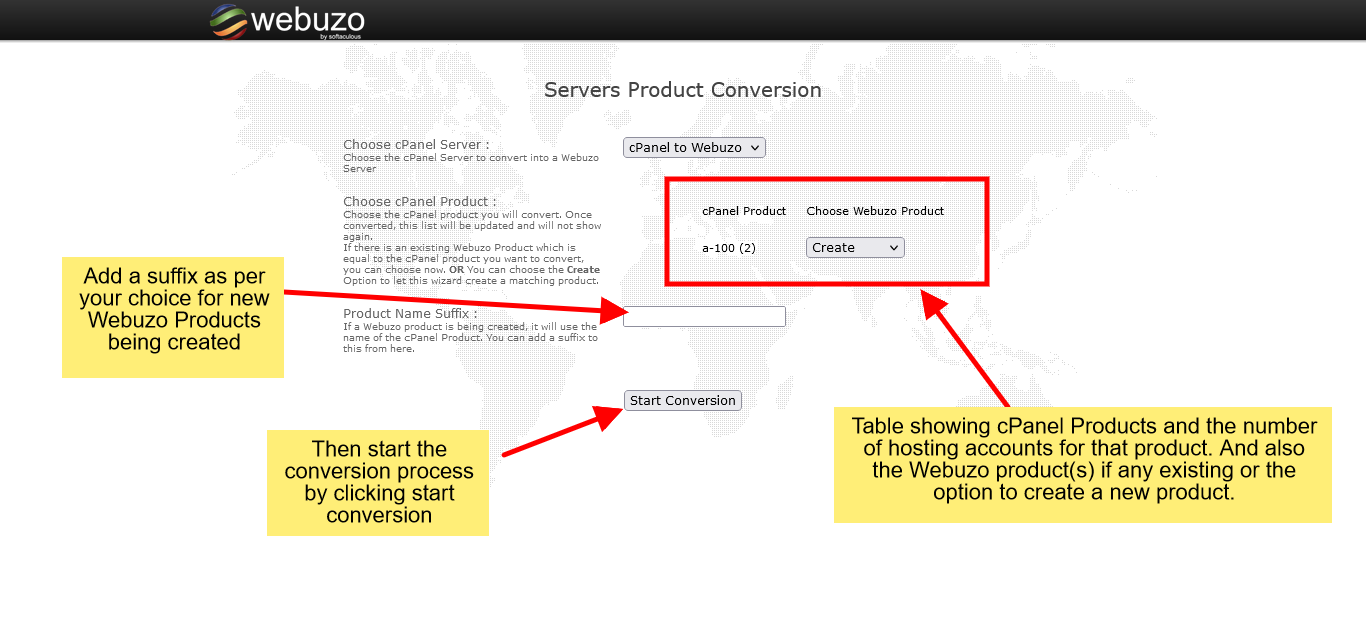 Once converted the number of accounts which are converted will be displayed.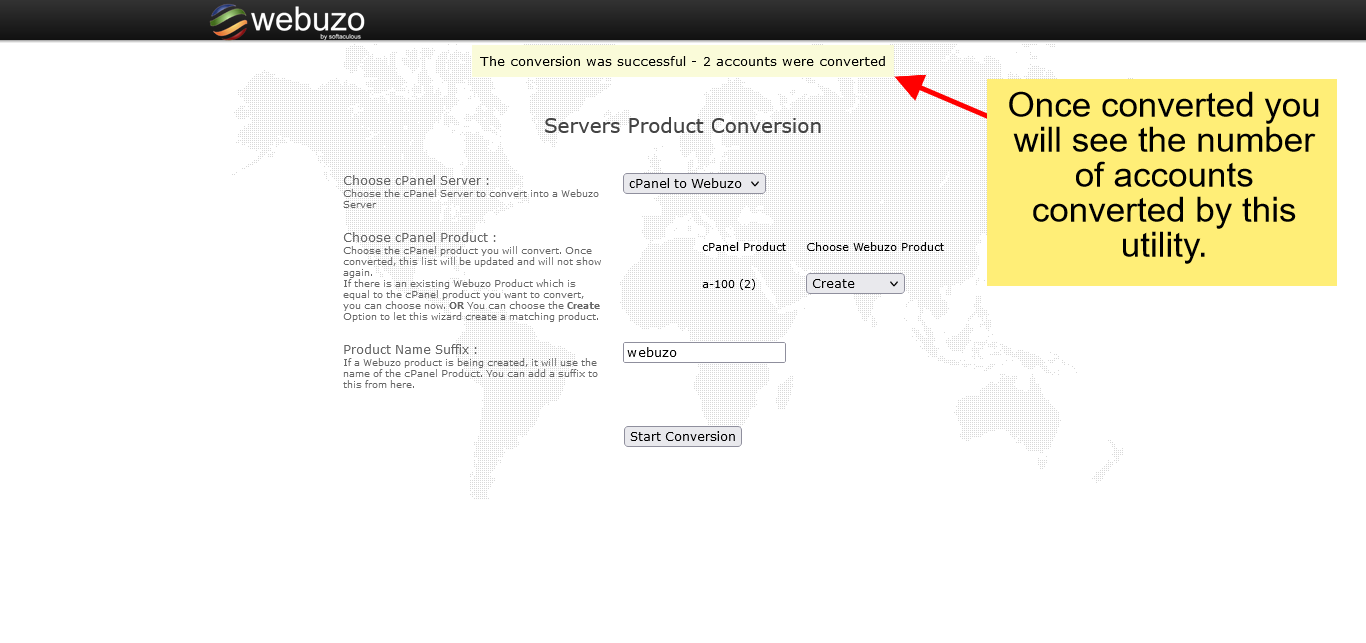 Update cPanel Server to Webuzo
You will need to update the cPanel server in WHMCS to now use the Webuzo module. The following is a screenshot of the original cPanel server in our WHMCS installation.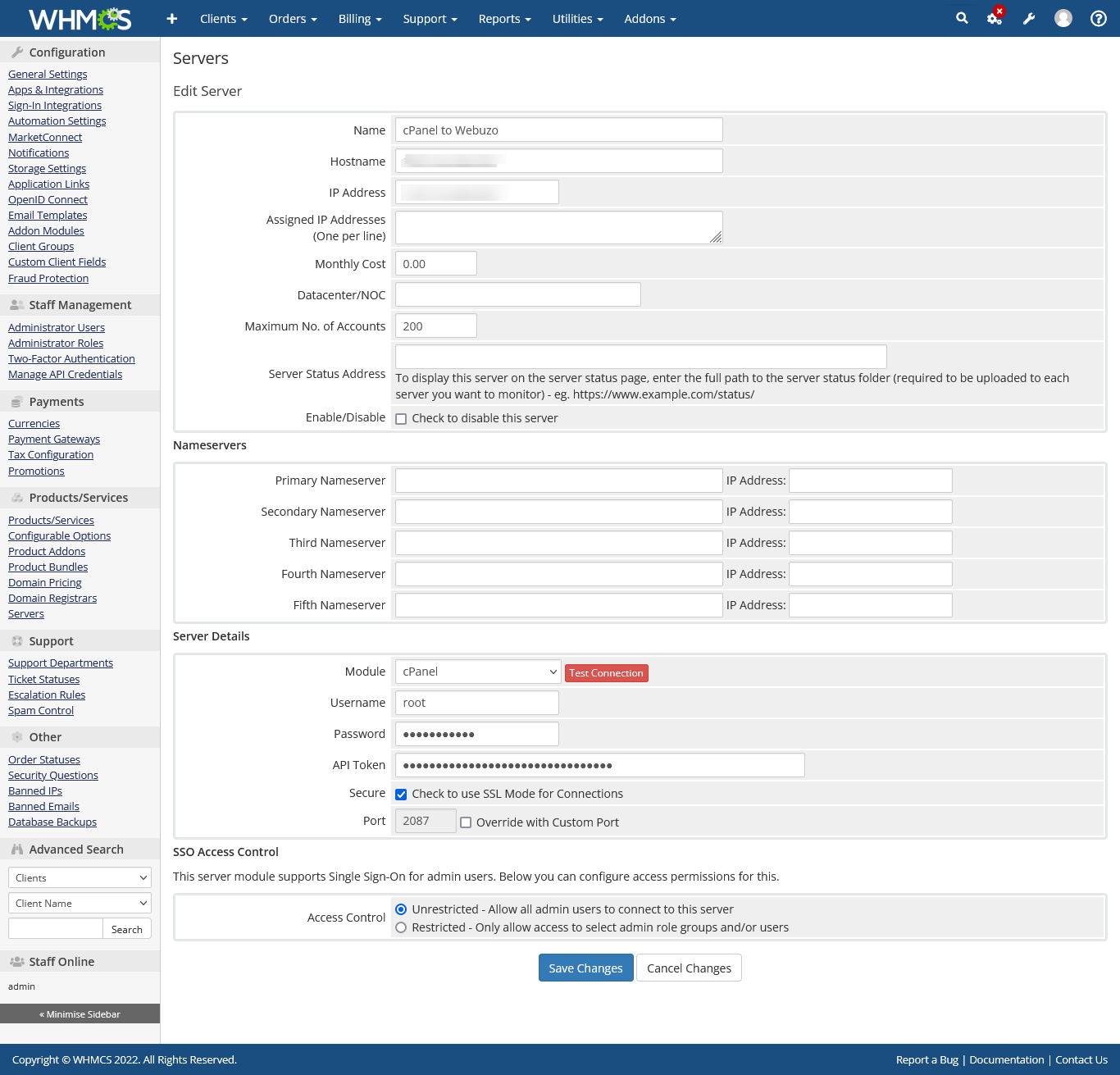 Please update the above server to the following as per Webuzo module settings :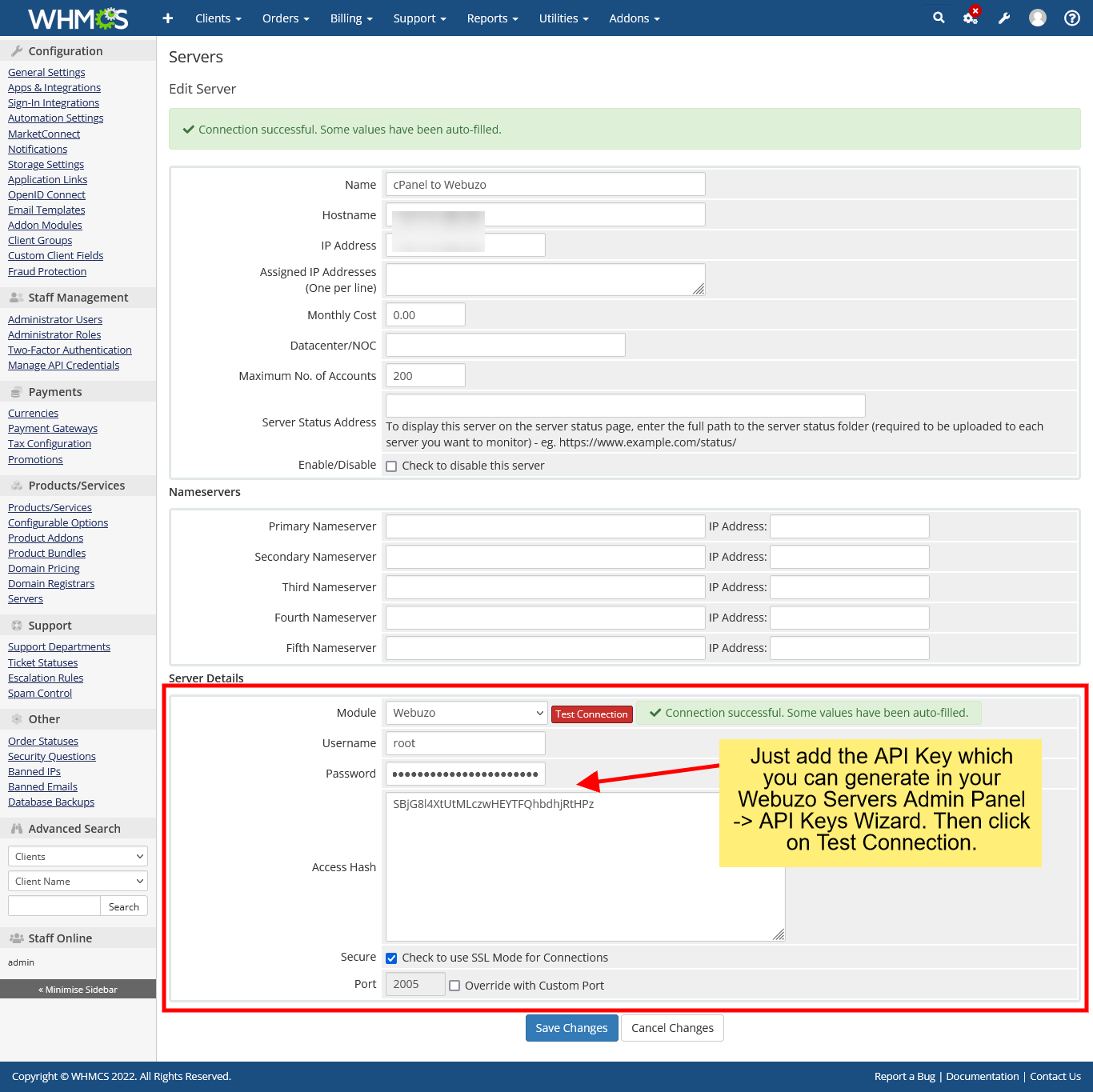 Once you have tested the connection, save the server and all your hosting accounts converted should be able to now load the Webuzo Enduser Panel in WHMCS.

Now verify that all data has been imported successfully and welcome to the Webuzo family :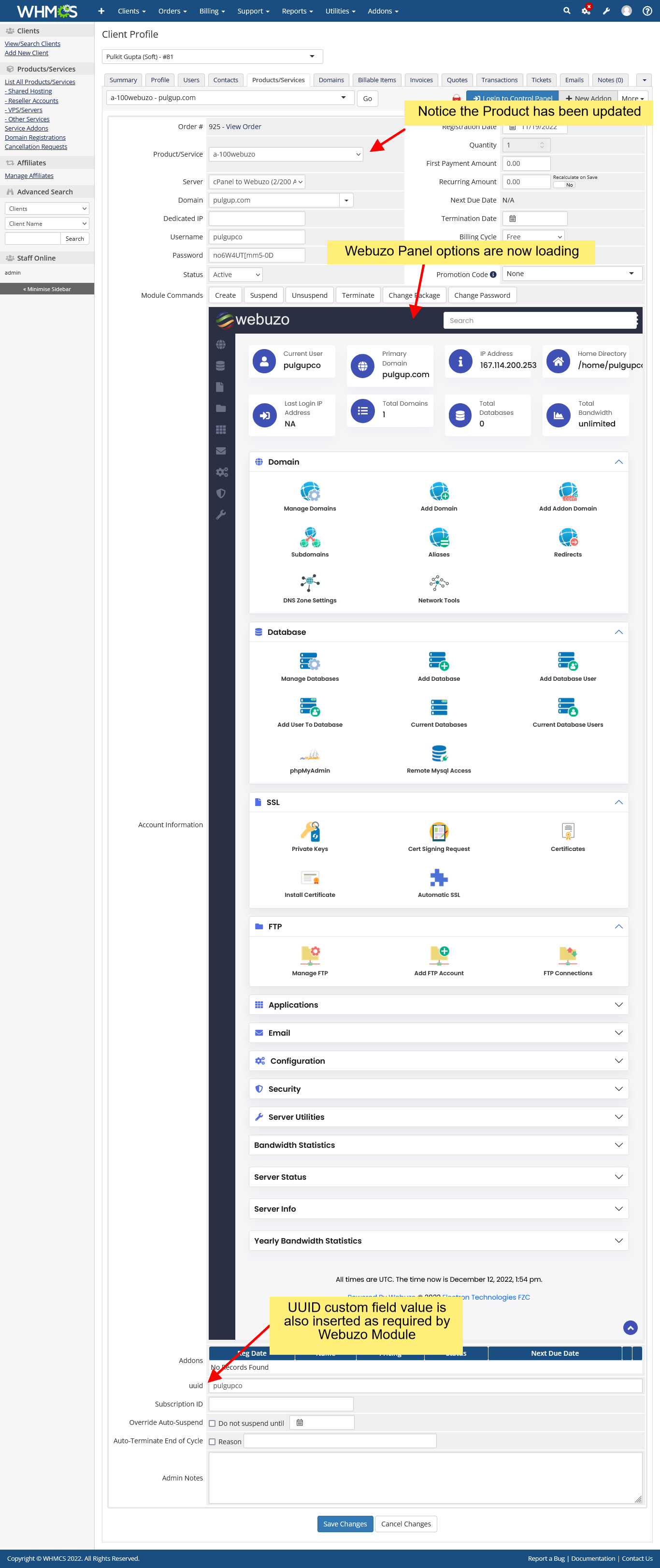 We would be happy to help you migrate. Please contact the Webuzo Team to help you migrate.