Overview
This guide will help you how to import multiple accounts from cPanel to Webuzo.
Requirements
- You will need a server with Webuzo installed.
Refer to the following guide on
how to install Webuzo
if you have not installed Webuzo yet.
- Make sure port 2087 and 2083 are accessible from your Webuzo server to your cPanel server
Access cPanel Import Page
- Login to your Webuzo admin panel as root. You can access the Webuzo admin panel at https://your-ip:2005
- Go to Import -> Import from cPanel page from the left menu
- Enter the login details of your cPanel server and click on
Scan cPanel Server
button
You can enter root or reseller credentials to load the accounts owned by the same.
Choose the Accounts to Import
- Now you will see a list all the accounts present on your cPanel server
- Choose the accounts you would like to import. You can also use the Select all checkbox to select all the accounts
- Click on the
Start Import
button
- Sit back and Relax. Webuzo will start importing all selected accounts.
- Webuzo will import all the files/folders, domains, databases, cron jobs, selected php version for domains, email accounts, ftp accounts and everything else related to the user.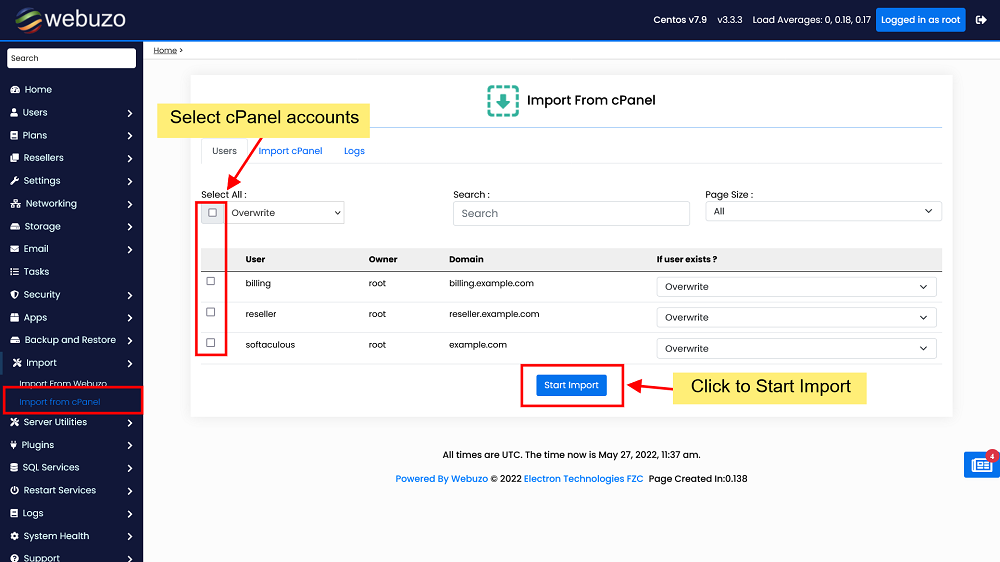 - You will see a success message and the import process will start in background

View Logs
- Check the Logs in real time to find what process is being done

Completed
- When the process is completed you will see the following message Migration completed successfully for each user you selected. You can find the username in the left side of each line of log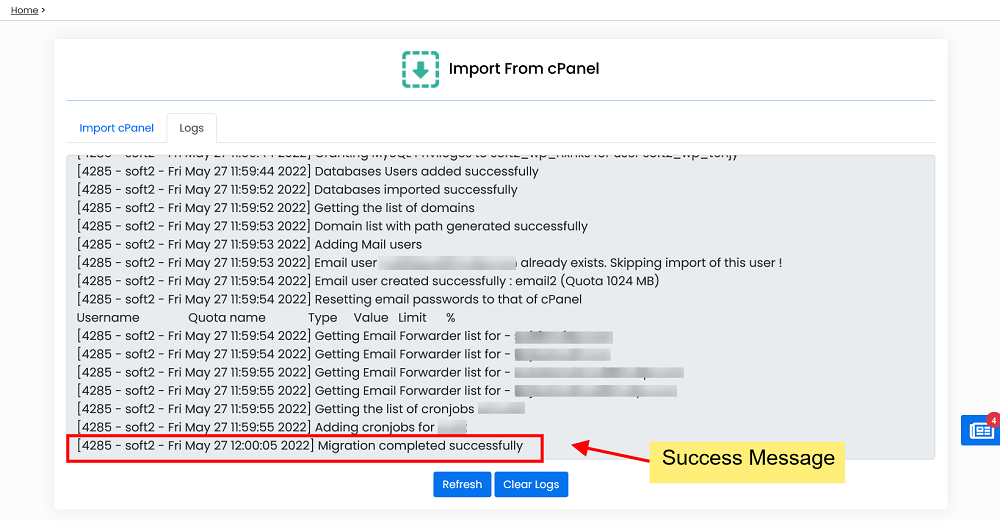 - You can now login to the Webuzo account of the imported users and verify the contents
- The time taken to import the accounts depends on the size of the data and the transfer speed between your Webuzo and cPanel server

Support
- We hope the process was easy.
- If you face any issues feel free to
open a support ticket
with us and our team will help you.